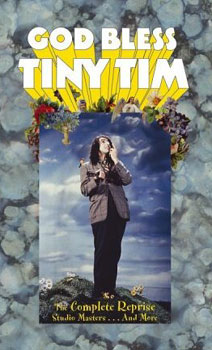 Tiny Tim - 12.04.1933 - 30.11.1996
Auf dem Edellabel RHINO-Handmade erschien eine auf 3000 Exemplare limitierte 3-CD-Box, die seinen gesamten Outpot auf Reprise enthält. Interessant sind vor allem die über 30 Demos, die enthalten sind. Insgesamt können sich seine Fans auf 107 Tracks, davon 45 unveröffentlichte freuen. Dazu gibt es ein 28-seitiges reich bebildertes Booklet.
RHINO schreibt dazu:

"Born Herbert Khaury in 1932 New York City, falsetto-voiced Vaudevillian cult icon Tiny Tim enjoyed 15 minutes of fame following his hit 1968 version of "Tip-Toe Thru' The Tulips." He appeared on the debut episode of Rowan & Martin's Laugh-In and married Miss Vicki on Johnny Carson's Tonight Show, attracting the largest audience in that show's history. He was instantly recognizable with his long, curly hair; prominent nose; and signature ukulele.
In the mid '60s, after performing for years in New York clubs under such names as Larry Love and Barry Dover, Tiny Tim recorded some demos with producer Richard Perry, who would go on to make records for Captain Beefheart, Ringo Starr, Carly Simon, Rod Stewart, and Barbra Streisand. After catching the ear of Reprise Records' Mo Ostin and signing to the label, Tiny was paired with the producer for what would become 1968's God Bless Tiny Tim, which contained the above-mentioned breakout single. Crafted to capture Tiny's Tin Pan Alley charms while also appealing to the mass market, the album combined old songs with flights of fancy and psychedelic studio techniques.
Tiny and Perry quickly got to work on the more straightforward Tiny Tim's 2nd Album, but a small-label release of a shoddy 1962 performance arrived first, putting off fans awaiting the follow-up to God Bless. In any event, Tiny received a warm welcome at London's Royal Albert Hall in October of 1968, performing to a crowd that included all four Beatles plus The Rolling Stones. A children's record, For All My Little Friends, was recorded and released in 1969, but Tiny's contract with Reprise soon expired and was not renewed. He went on to build a 25-year post-Reprise discography that resembles, according to Barry Hansen's liner notes to this release, a "crazy quilt of one-off albums and singles, including some very nice work…"
This three-disc Rhino Handmade box contains all three remastered Reprise albums in their entirety, plus 13 unique Reprise single sides, and an entire disc of previously unreleased masters, radio spots, and demos. Includes a full-color 28-page booklet.
God Bless Tiny Tim: The Complete Reprise Recordings is available as an individually numbered limited edition of 3,000 copies.
Trackllisting hier: Mehr ...

Ich kannte ihn nur von seinen ersten beiden LPs, war aber von seiner exzentrischen Art, im Falsetto-Sopran bekannte wie unbekannte Lieder völlig überdreht zu singen, absolut begeistert. Ihr merkt wieder mal, dass mich solche Charaktere schon immer magisch angezogen haben (siehe auch die anderen Interpreten bei meinen "Juwelen: Kabarett, Comedy, Kleinkunst, Verrücktes"... ). Eines seiner letzten Konzerte gab er am 16.12.1995, das von Fans mitgeschnitten wurde. Die CD "Tiny Tim - The Eternal Troubadour" (Rest in Peace) war leider nur kurz erhältlich. Ich habe sie zum Glück ergattern können.

Einfach Wahnsinn dieser Typ!!! "Tiptoe through the Tulips" ...

Biografie (Popalphabet). Mehr ...
Offizielle Website. Mehr ...
Weitere Memorial-Page. Mehr ...
Diskografie. Mehr ...

Gerd Müller (2006)