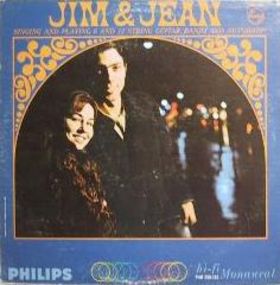 1. Longplay "Jim & Jean" - 1965
Dieses Album gibt es leider noch nicht auf CD. Ich kenne es auch nicht.
1. Relax Your Mind (Huddie Ledbetter)
2. My Ramblin' Boy (Tom Paxton)
3. Welcome, Welcome Emigrante (Buffy St. Marie)
4. Hold On To Me, Babe (Tom Paxton)
5. Blackfly Song (In North Ontar-i-o) (Wade Helmsworth
6. Alabama Bound (Huddie Ledbetter)
7. The Bells (Edgar Allen Poe/Phil Ochs)
8. Black Girl (Adapted and Arranged by Jim and Jean)
9. Take It Slow And Easy (Adapted and Arranged by Jim and Jean)
10. There But For Fortune (Phil Ochs)
11. Sadie Brown (J. Elliott)
12. Rider (Adapted and Arranged by Jim and Jean)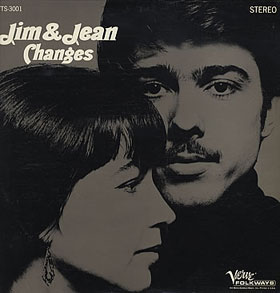 LP "Changes" - 1966

1. Loneliness (Jim Glover)
2. Tonight I Need Your Lovin' (Eric Andersen)
3. It's Really Real (Jim Glover)
4. Grand Hotel (David Blue)
5. Crucifixion (Phil Ochs)
6. Changes (Phil Ochs)
7. Flower Lady (Phil Ochs)
8. About My Love (David Blue)
9. Strangers in a Strange Land (David Blue)
10. One Sure Thing ( Jim Glover)
11. Lay Down Your Weary Tune (Bob Dylan)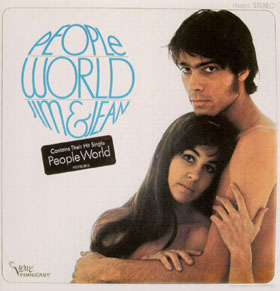 People World - 1968

1. Topanga Road (Jim Glover)
2. Success (Jim Glover)
3. What's That Got to Do With Me? (Jim Glover)
4. Get Out of My Mind (Jim Glover)
5. Rhythms of Revolution/Interpolate: Hang on Sloopy/Like a Rolling Stone (Phil Ochs)
6. Hanoi Hoe-Down (Jim Glover)
7. The Planet June (Jim Glover)
8. Playground (Jim Glover)
9. Time Goes Backwards (Jim Glover)
10. Sweet Water (Miller)
11. Cross My Heart (Phil Ochs)
12. People World (Jim Glover)
Die beiden LPs "Changes" und "People World" wurden auf einer CD wiederveröffentlicht: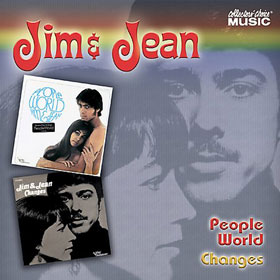 Hörbeispiele gibt es auf amazon.com.

1 Viva The Revolution
2 Old Voting Machine
3 Rain
4 Let's Make Peace
5 Pay Me My Money Down
6 I Ain't Marching Anymore
7 Press On
8 Send Bush Back to Texas
9 Why Not Peace
10 Outsider
11 Rabble Rouser
12 These Days/Power And The Glory
Sind Liveaufnahmen, manche "ungeschliffen", also elektronisch nicht veredelt. Auf cdbaby.com kann man reinhören.

Jim Glover und Jean Ray ... bekannt als "Jim & Jean"

Ich möchte fast wetten, dass niemand mehr dieses Folksong-Duo kennt.
Dabei haben sie so unvergessliche Hits wie "People World" (von Jim komponiert) oder "Changes" gesungen. In ihrer unnachahmlich-einschmeichelnden Art. "People World" kennt man auch von David & Jonathan. Und die genannten zwei Songs waren es, die mich damals aufmerksam werden ließen.

1965 traten die beiden nach der Vertragsunterzeichnung bei der bekannten Plattenfirma Verve mit wunderschönen Folksongs oder Folkrock-Songs an die Öffentlichkeit und brachten einige viel beachtete Alben in die Läden. Neben Eigenkompositionen interpretierten sie u.a. auch Songs von Bob Dylan, Phil Ochs, Eric Anderson und David Blau. Jim spielte Gitarre, Jean hatte wie Jim eine tolle Stimme und beides ergab ihren unverwechselbaren Sound.

Leider blieb es bei nur drei LPs ... Eine ausführliche Beschreibung der ersten LP gibt es leider nur in englischer Sprache. Ein langer, schöner Song aus dieser LP "Crucificion" ist hier zu hören.
Erst 2003 hörte man wieder etwas von Jim. Seine CD nannte er "Outsider". Siehe linke Spalte. Auch zum Reinhören.

Im März 2006 gab es ein Reunion-Konzert in Ney York City. Jim schrieb vorher: "The concert starts at 8 and I hope people come early because it is first come, first serve at 45 East 33rd St. This is our first musical reunion since Phil Ochs died in 76.
I'll be flying in from Florida and Jean from Colorado and I hope you all can join us 'cause we will be singing many of the great songs of those exciting times ..."

Leider ist Jean Ray nach schwerer Krankheit am 19.08.2007 verstorben.
Gerd Müller

Biografie auf Wikipedia.org
Jim and Jean in einer raren Liveaufnahme auf YouTube