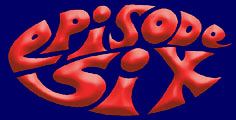 Juwelenstory
Links
Diskographie
Originalbesetzung:
Andy Ross, vocals - Roger Glover, bass (* 30.11.1945) - Graham Carter, guitar - Sheila Carter-Dimmock, organ, vocals - Tony Lander, lead Guitar - Harvey Shields, drums - Ian Gillan, vocals (* 19.08.1945)

Weitere Mitglieder, die Ausgeschiedene ersetzten:
Andy Ross, Vocals - John Kerrison, Drums - Mick Underwood, Drums - John Gustafson, bass (ex-Big Three) - Peter Robinson (keyboards)


Wie ich auf "Episode Six" kam ...

Etwa 1965 durch ihr "I can see through you". Das hörte ich im Radio. Ein psychelisch angehauchtes, nicht gerade in Watte verpacktes Stück und - jedenfalls für mich - ein Ohrwurm. Irgendwie obskur. Gut, die Single kaufte ich mir, stieß aber erst vor einigen Jahren auf eine Reihe CDs, deren Cuts mit umfangreichstem Bonusmaterial zum größten Teil erstmals das Laserlicht erblickten ...

Achtung: besser vorher mal reinhören, dann dürfte die Sache so oder so klar sein. Denn die Musik ist nicht jedermanns/-fraus Geschmack! Sie waren auch nie eine Band, die in den Hitparaden auftauchte. Mit der Marke "Underground" ist sie wohl besser charakterisiert. Umso beachtlicher, dass sie noch immer eine recht stattliche Fangemeinde hat, obwohl sie seit 1969 nicht mehr existiert. Warum, ist leicht erklärt: Weil Ian Gillan und Roger Glover bereits vor "Deep Purple" ein beachtetes Vorleben bei den Episodes führten. Doch halten diese einem Vergleich mit "Deep Purple" stand? Sicher nicht, denn Purple erfuhr dank Gillan und Glover eine furiose Weiterentwicklung, die auch eine viel beachtete und gelungene Synthese mit Rock- und Klassikelementen erfuhr ("Concerto For Group And Orchestra"). 1969 war es daher kein Wunder, dass sich die Episode Six nach dem Ausstieg der beiden kreativsten Köpfe auflöste. Dennoch faszinierend, wie viel Material der Gruppe erst nach Jahrzehnten zur Freude sammelwütiger Fans vermarket wurde. Okay, ich leg' sie ja auch nicht alle Tage auf. Möchte sie aber auch nicht missen.

Ein kleine Retrospektive:

Aus zwei Schulbands, den "Madisons" (u.a. mit Glover, Lander und Shields) und den "Lightnings" (u.a. mit Carter-Dimmocks sowie Andy Ross) setzte man im Oktober 1963 das Projekt "Lightnings" zunächst fort, bis man sich im Juli 1964 auf "Episode Six" als neuen Bandnamen einigte. Nach einem Live-Engagements in Frankfurt gab es den ersten Personalwechsel, als Andy Ross im Mai 1965 nach seiner Heirat und tourneemüde das Musikgeschäft quittierte. Dafür kam Ian Gillan. Die erste Single "Put Yourself In My Place" war ein von den Beatles inspirierter Song, geschrieben vom Hollies-Team Clarke/Hicks/Nash. Die B-Seite "That's All I Want" komponierte Roger Glover.

Die nächste kleine Scheibe "I Hear Trumpets Blow" coverte man von der Gruppe "The Tokens", die Flipsite "True Love Is Funny That Way" schrieb diesmal der Dummer Harvey Shields. Nr. 3 war die Coverversion der Beatles "Here, There And Everywhere". Glover bestückte wieder die Rückseite: "Mighty Morris Ten". In der Beat-Ära meinten etliche Bands, dass es kein Fehler ist, ein bisschen nach Beatles zu klingen. Von daher muss wohl die Idee entstanden sein, "Here ..." neu zu interpretieren. Und es ist ja gut gelungen. Weiter unten habe ich eine äußerst rare französische und entsprechend hoch gehandelte EP abgebildet, auf der die zweite und dritte Single enthalten ist. Die Managerin der Gruppe, Gloria Bristow, war nach den nicht sehr erfolgreichen Singles der Ansicht, dass Sheila Carter mehr in den Vordergrund gestellt werden sollte. So nannte sich die vierte Single auch "Sheila Carter/Episode Six" und enthielt die Titel " I Will Warm Your Heart/Incense". Weihnachten 1966 verbrachte die Gruppe in Beirut. Musikalische Einflüsse von diesem Trip kann man auf der nächsten Single "Love, Hate, Revenge" heraushören, die auch besser überzeugte als ihre Vorgänger. Nach einer weiteren Scheibe "Morning Dew" verließ Drummer Harvey Shields die Band und gründete ein Duo. Ersetzt wurde er durch John Kerrison. Übrigens hat auch Robert Plant "Morning Dew" gesungen. "I Won't Hurt You" (Original von "West Coast Pop Art Experimental Band") lief unter "Neo Maya", dem Psyeudonym von Graham Carter-Dimmock.

Ja, dann folgte das Lied, dass mich seinerzeit neugierig machte: "I Can See Through You". Und endlich durfte eine Eigenkomposition von Roger Glover auf der A-Seite landen. Psychedelisch, in kraftvolles Arrangement verpackt, so könnte man sie umschreiben. Ian Gillan's Gesang passte in idealer Weise zu diesem kraftstrotzenden Song mit tollen Ideen und einem "hämmernden" Ende. Überraschender Weise war diese Single kein großer Hit und man trennte sich danach von Pye, um einen neuen Vertrag beim MGM-Label zu unterzeichnen. Aber auch die erste Single auf diesem Label "Little One" war ein Flop, obwohl sie sich stilmäßig (mit Bläsersätzen) doch erheblich von den Vorgängern unterschied.

Die Band glaubte nach wie vor daran, endlich den Durchbruch zu schaffen: Personal- und Labelwechsel (Chapter One), noch einige Singles, das war's. Der Weggang der beiden Köpfe zu Deep Purple war nicht aufzuhalten und nicht zu kompensieren.