David & Jonathan - Plattentipp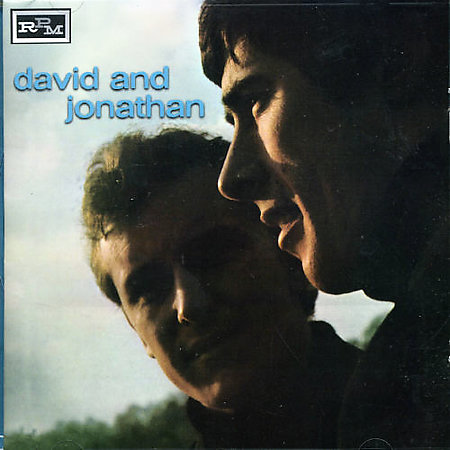 Alle Titel der beiden CDs:

CD1: David And Jonathan
01:Bye Bye Brown Eyes (Kretzmer/Martin) [2:10]
02:You've Got Your Troubles (Greenaway/Cook) [2:45]
03:I Know (Greenaway/Cook) [2:23]
04:See Me Cry (Greenaway/Cook) [2:43]
05:Bye Now (Greenaway/Cook) [2:19]
06:Let's Hang On (Crew/Randell)[3:05]
07:Michelle (Lennon/McCartney) [2:51]
08:A Must To Avoid (Sloan/Barri) [1:54]
09:This Golden Ring (Greenaway/Cook) (2:55]
10:Yesterday (Lennon/McCartney) [2:15]
11:A Little Like You (Greenaway/Cook) [2:28]
12:Every Now And Then (Greenaway/Cook) (2:07]
13:Be Sure (Greenaway/Cook) [3:02]
14:The End Is Beginning (Greenaway/Cook) [2:22]
CD 2: The Best Of David And Jonathan
01:How Bitter The Taste Of Love (Greenaway/Cook) [2:14]
02.Speak Her Name (Ballard) [2:28]
03:Ten Storeys High (Greenaway/Cook) [2:53]
04:I've Got That Girl On My Mind (Greenaway/Cook) [2:07]
05:Take It While You Can (Greenaway/Cook) [2:18]
06:Lovers Of The World Unite (Greenaway/Cook) [2:32]
07:One Born Every Minute (Greenaway/Cook) [2:31]
08:Green Green Grass (Greenaway/Cook) [2:01]
09:Scarlet Ribbons (For Her Hair) (Danzig/Segal) [3:17]
10:Gilly Gilly Ossenfeffer Katzenellenbogen By The Sea (Hoffmann/Manning) [2:29]
11:Softly Whispering I Love You (Cook/Greenaway) [3:0])
12:She's Leaving Home (Lennon/McCartney) [3:13]
13:Something's Gotten Hold Of My Heart (Cook/Greenaway) [3:58]
14:Turn Around And Start Again (Greenaway/Cook) [2:44]
15:The Magic Book (Greenaway/Cook) [2:56]
16:Time (Greenaway/Cook) [2:42]
17:Penthouse (Greenaway/Cook) [2:48]
18:You Ought To Meet My Baby (Cook/Greenaway) [2:45]
Repertoire Records 2011
---


Coverausschnitte aus der Single "Lovers ..."


'David & Jonathan' alias Roger Cook/Roger Greenaway
Gene Pitney, Brotherhood Of Man, Andy Williams, Fortunes, White Planes, Pipkins, Blue Mink, Hollies, New Seekers, Drifters, Bobby Goldsboro, Miki Antony, Elton John, Crystal Gayle, Andrea True Connection, Johnny Johnson And The Bandwagon, Fantastics, Congregation, Carol Douglas, Sunny, Cilla Black, Cliff Richard, Harley Quinne, Neil Diamond, Lyn Paul, Dana, Alvin Stardust, Hot Chocolate, Brian Poole und und und ...

Was das soll? Liest sich doch fast wie ein "Who is Who" mindestens zweier Popdekaden, oder? Diese Interpreten und noch mehr brachten Songs auf den Markt, die von den beiden "Rogers" komponiert wurden. Eine lange nicht vollständige Aufstellung finden Sie weiter unten in einem Kasten. Nur komisch, dass die meisten der oben genannten Gruppierungen und Sänger/innen bekannter waren als eben David & Jonathan. Wobei u.a. "Lovers of the world unite" schon ein ausgewachsener Hit war, den sie in die Charts führten. Ein Auszug:
"Lovers of the world, unite
You alone know what is right
People all should feel this way
Needin' someone every day
Keep the fire of dreamers bright
Lovers of the world, unite ..."
Wie kam es zum Namen? Die beiden Sänger lasen wohl eine Passage im "Alten Testament" (Bücher des Samuel - 1.Sam 18,1-4; 19,1-7). Der Text berichtet von einer ungleichen Freundschaft zwischen dem Königssohn und einem Hirtenjungen. Als Jonathan mit David einen Bund schließt, ist Jonathan der Schenkende, während David dem Jonathan keine Geschenke machen kann. Doch die Freundschaft hält ... wie man die auch immer auslegen möge. Und ich habe endlich wieder eine Pop-Perle in meine Juwelenkollektion aufnehmen können, die ich nie vergessen konnte.
Gerd Müller (eingestellt 25.05.2011)
---
Wolfgang Giese hat sich die Mühe gemacht, die Doppel-CD "David And Jonathan" zu rezensieren und viele Einzelheiten aus dem musikalischen Schaffen der beiden Künstler mit einfließen lassen. Ich danke ihm für die Genehmigung zur Übernahme des folgenden Artikels:
"In den fünfziger und sechziger Jahren gab es einige Songwriter-Duos, die viele Hits geschrieben haben. In den USA z. B. Leiber/Stoller, Goffin/King oder Greenwich/Barry. Zu Großbritannien fallen natürlich sofort Lennon / McCartney ein, aber auch viele Hits stammten von Greenaway/Cook, genauer gesagt Roger Greenaway und Roger Cook. Diese beiden nahmen als David And Jonathan auch selbst Platten auf.
Das war Popularmusik jener Tage, die einerseits glattgebügelt erschien, andererseits aber auch wieder mit teils opulenten Arrangements aufwarten konnte. Sehr orchestral, mit 'Pauken und Trompeten' und Streichinstrumenten üppig angereichert, dazu die beiden Sänger gemeinsam und auch einmal einzeln. Das war eben typisch für jene Tage, als progressive Elemente, die aus der Rockmusik noch kommen sollten, nicht unbedingt an der Tagesordnung, geschweige denn in den Charts zu finden waren.
In den Charts landeten die Beiden im Jahre 1966 dann auch gleich zweimal: einmal mit einer Coverversion, nämlich "Michelle" von den Beatles (Platz 11 in den britischen Charts), die dem Duo großen Erfolg bescherte, obwohl das Cover der Overlanders noch einen Tick erfolgreicher war (Nummer 1 in den britischen Charts), und mit dem Stück, das man eigentlich eher in Verbindung bringt mit David And Jonathan, "Lovers Of The World Unite" (Platz 7 in den britischen Charts). Beide Hits sind hier natürlich enthalten. Und mit "Yesterday" und "She's Leaving Home" wurden die Pilzköpfe dann noch einmal bedacht.
Die erste CD stellt die seinerzeit erste, gleichnamige Platte dar, und die zweite ist eine Zusammenfassung von Hits und anderer Titel, alle in Mono. Leider fehlt die erste Single mit den Stücken "Laughing Fit To Cry/Remember What You Said", ferner die B-Seiten vierer Singles und eine in italienischer Sprache gesungene 45er.
Ein sehr augenfälliger Song ist "Gilly Gilly Ossenfeffer Katzenellenbogen By The Sea", ein alter Titel aus dem Jahr 1954, was immer dieser Text auch bedeuten mag: Der Songtitel ist erwähnenswert, oder?
Mein 'persönlicher Knaller' ist "Be Sure"! Als langjähriger Freund der Musik der The Walker Brothers ist das ein Titel, den ich mir von den falschen Brüdern seinerzeit gern als Coverversion gewünscht hätte. Die Stimmen von Scott Walker und John Walker hätten hier ideal gepasst. Hier stimmt einfach alles, ein imposantes Arrangement von Johnny Scott, die Dramatik und die Atmosphäre des Songs. Diese Dramatik taucht stets wieder auf in anderen Liedern und wechselt sich mit fröhlichen Popsongs ab, wie zum Beispiel das lustig erscheinende "I've Got That Girl On My Mind".
Ihre Songschreiberqualitäten stellten die beiden Komponisten zusammen und allein auch später noch unter Beweis, ich verweise auf einschlägige Nummern von Bands und Künstlern wie Blue Mink, The Fortunes, Whistling Jack Smith, The New Seekers oder die Hollies. Beide waren später auch noch im Bereich der Countrymusik tätig.
Doch hier bleiben uns diese Perlen vergangener Tage, als die Charts noch anders aussahen, und letztlich mehr Handwerk das Geschehen bestimmte, egal, ob man die Songs nun mochte/mag oder nicht. Überdies ist es ein feiner Auszug aus der lebhaften Geschichte der Popmusik."
Hinweis:
Siehe linke Spalte, Do-CD, um die es geht!